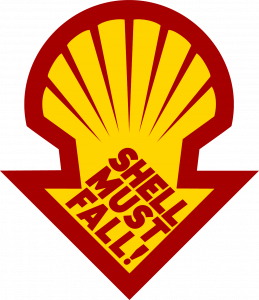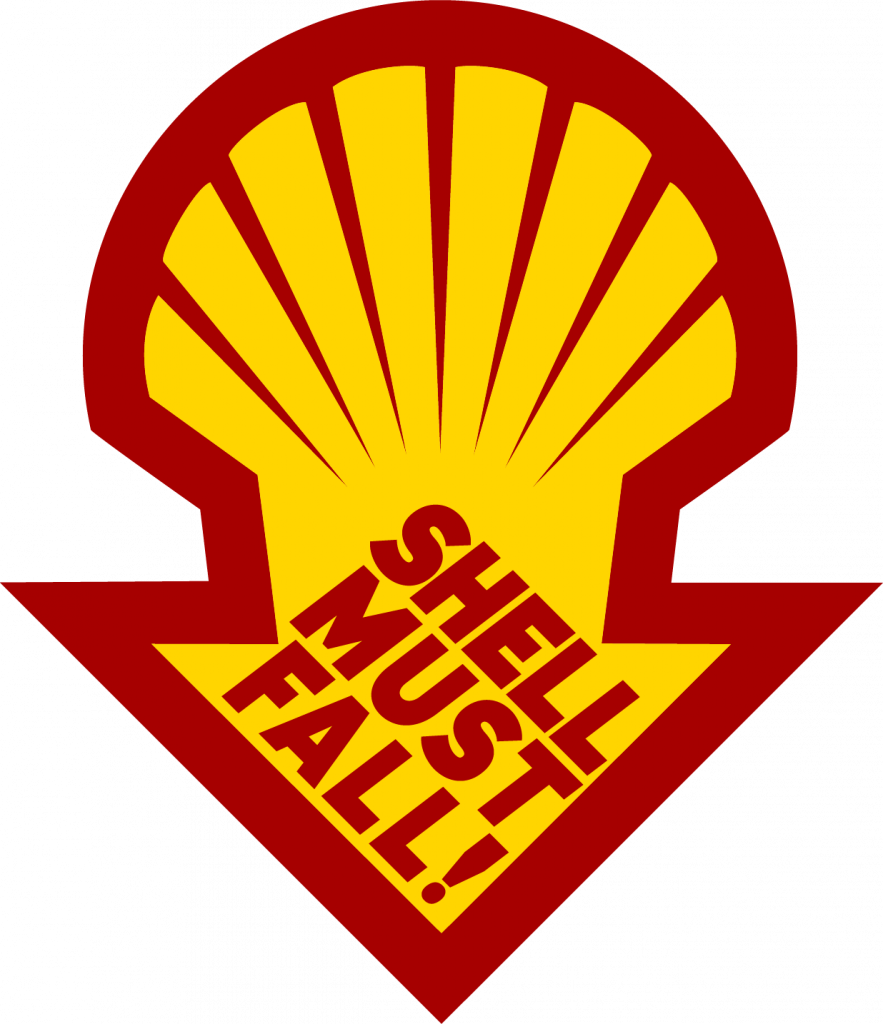 It's time to
make Shell history.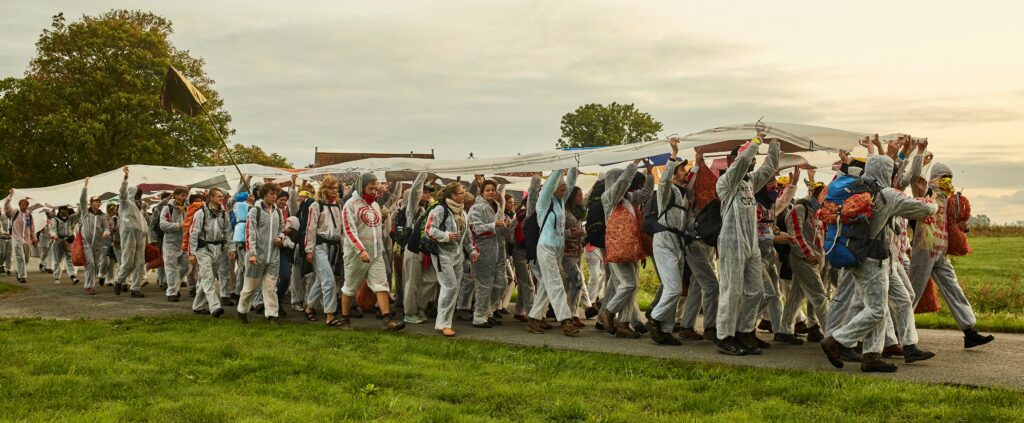 Donate to our fundraiser for a victim of police violence at 2018 Groningen protest
During the action that Code Rood conducted in 2018 against gas extraction in Groningen, a peaceful activist was beaten hard on the head by a police officer. He had to be stitched up and suffered a severe concussion.
The activist decided to charge the officer with assault but the charge was dismissed, because the officer "could not remember the incident"… So now we are going to the European Court of Human Rights. But for this we need your help! The costs of the lawyer have already risen considerably (about 2,000 euros). If there is a lawsuit, it will certainly increase significantly.
You can donate to the fundraiser for the legal costs here.
Shell AGM
Every year in May, Shell's shareholders meet for the Annual General Meeting (AGM). The AGM is where the company fulfils its legal duties to the shareholders: Approving the Annual Report and discussing the plans for the following year. It is where, year after year, they openly decide to carry on with their destructive business-as-usual.
In the midst of a climate emergency, the last thing we need is shareholders of an oil giant meeting to discuss how they are going to maximise their profits.
DEMANDS:
DISMANTLE SHELL by any legal, economic political means necessary
provide a JUST TRANSITION for the workers in the fossil industry
ensure REPARATIONS for impacted communities and ecosystems
build a decentralised and socialised ENERGY DEMOCRACY for all
FAQ
What is happening on May 24 2022?

This year Shell is holding its first annual general meeting (AGM) in the United Kingdom, after moving headquarters from The Hague (Netherlands) to London in the beginning of 2022. Although this means that we cannot plan a large-scale action at the AGM in the Netherlands as we did in previous years, we will make sure Shell knows that we haven't forgotten about them.
Local groups throughout the world plan to organise actions on this day to fight for a future without the oil-giant. Shell Must Fall calls on people to initiate their own local actions in the Netherlands and beyond.
What is Shell Must Fall's key message on this day?

Shell might try to run, but they cannot hide from climate justice! Shell's crimes against people and planet have not been forgotten. We will continue to hold them accountable and fight to dismantle Shell and the entire fossil fuel industry.

It is a fantasy that Shell will ever become a fair ecological company: The way in which they remunerate their management and pay out dividends to their shareholders shows that Shell continues prioritizing the maximization of profit at all costs. We know the results: corruption scandals, mass layoffs, earthquakes in Groningen, a polluted Niger Delta, and the climate crisis. The Shell Must Fall coalition therefore says:

Dismantle Shell; only maintain the sustainable energy parts of the company, place them under democratic control, and ensure their energy is produced in a just way; repair the damage done to livelihoods, health, land, and community; ensure green jobs for workers; and phase out oil and gas.

Our demands in short:


DISMANTLE SHELL with the help of any legal, economic, or political means necessary

guarantee REPARATIONS for affected communities and ecosystems

ensure a JUST TRANSITION for workers in the fossil industry

build a decentralized and socialized ENERGY DEMOCRACY for all
What is our strategy for change?

Imagination is crucial for change. Many people, and the public and political discourse, are stuck in a vision of the future in which Shell undoubtedly exists. Hence, the discussion often focuses on making Shell more fair or green. We are shifting the Overton window in the discussion around Shell by going beyond Shell-bashing. All criticism of Shell from experts, NGOs and journalists implicitly asks Shell to behave better. We go one step further. We reject the idea of a "fair trade and ecological Shell" and demand the dismantling of the company. People need to realise that a future without Shell is an actual possibility. If that frame is taken over by our allies, the Overton window shifts and Shell's fall is closer.
Who is the target of the actions?

Our target is not Shell (or the 100.000 people working there) but specifically Shell managers and shareholders. By always mentioning this explicitly we aim to build a bridge towards Shell workers, and make them understand that dismantling Shell will also benefit them.
Who is our target audience?

In symbolic actions, our target group is not Shell managers and shareholders but the people who talk about Shell and determine public opinion about Shell. Journalists, climate justice activists, Shell-affected communities, NGOs, experts, politicians and yes, Shell employees, who have played a big role historically holding Shell accountable for abusive practices in Indonesia, Nicaragua, Curacao.
And how does the key message relate to how we see change happening?

We attack Shell, but all these above-mentioned people are the audience watching our actions. We want them to take over our frame and spread it, respond to it, oppose it, so that dismantling Shell becomes the discussion. We need to make the idea imaginable so it can become a reality.
How is the key message adding to the debate around climate change/ Shell?

We break the spell that multinationals will always be there – that they cannot be stopped, only reformed. If we succeed in making dismantling a common narrative around Shell we threaten its existence. Moreover, Shell is an example of a wider problem – it is one of many companies whose existence depends on destroying the climate. Focusing our lens on the need to dismantle them is a way of putting the slogan 'System change, not climate change' in practice. It helps us to see that in order to address the climate crisis we have to the challenge the undemocratic structures of ownership and decision-making in our economy.
How are decentralized actions a good means for this?

Decentralized actions will help to support more groups and people to take over this narrative, work with it and adapt it, and go beyond Shell bashing. They will spread the narrative further through their actions and among their allies. And, of course, we hope that people will start their own "Must Fall" campaigns. In the past two years we have seen that the idea has started to spread. E.g. BP Must Fall, Galp Must Fall, Eni Must Fall, Ineos Will Fall, etc.
Is it really that simple?

One thing is simple: for capitalist planet-abusing multinationals like Shell, dismantling is the only way towards justice and preventing further climate disaster. That will be our key message for these actions. However, the process of dismantling is complex, and Shell Must Fall absolutely recognises this. There are many questions to be asked, and conversations to be held. What does 'democratic control' look like? (It's not simply putting Shell under national parliamentary control.) How can we make sure that sustainable energy is produced in a just way? How can we make sure the right people are part of these conversations? We are already exploring these questions – and we will continue doing so after May 24. For more information on our findings so far, check out Future Beyond Shell.
I wanna make Shell history.
Tell me what to do!
We are building a great coalition to dismantle Shell. Join us by leaving your details below