It was announced in the programme of the Fossilfree "Global Divestment Mobilisation" (GDM) plan for this week.  On friday there would be something, further unspecified, in the van Gogh Museum, by 
Fossilfree Culture NL
.  But the exact performance was a surprise.
Like at a previous occasion, the performance aimed at artfully exposing the poisonous sponsorship of the famous Amsterdam van Gogh Museum with SHELL.   Seven female performers entered the lobby in a simple white dress, carrying a St. Jacob's shell, the image used by the SHELL company.  They stood on the staircase and drank a dark fluid from the shells. But the fluid dribbled from over their lips, chin, dress.
Hundreds of people present in the lobby watched, took pictures. And the beautiful video below was composed of the performance.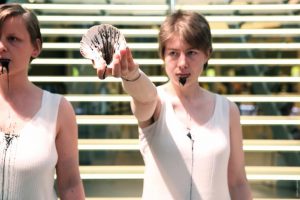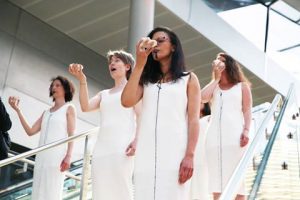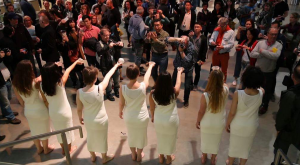 All seven performers and somebody from the support team were arrested after the short performance ended, and taken in custody by the police.  There they spent the night in a cell. The charge was unlawful entry and vandalism, because the black fluid (molasses) also landed on the staircase and the floor of the lobby.   While SHELL enriches itself by destroying the environment, spreading corruption, and causing harmful climate change, peaceful protest is being criminalised.
However, the message of Fossilfree Culture NL has clearly landed in the national press: break the connections between our cultural institutions and powerful companies like SHELL who damage the climate and cannot be a part of a sustainable future: divest.
We, the CODEROOD (Code Red) movement, want to express our solidarity with these artists, most of whom are still in prison, nearly 24 hours later!  The #vanGogh8 are real climate heroes! They need our support, now!

For updates, follow their twitter account @FFcultureNL, their facebook page, and the fossilfreeculture.nl website.  We will also support them on our twitter and we uploaded their facebook video onto our youtube account for sharing.