Unfortunately the the action training on October 14 had to be canceled
The number of people that signed up was insufficient for a good training. In case you have time on October 20th,  you can subscribe to the training in Maastricht.
The  training sessions are intended  to prepare for the Ende Gelände action against the destructive mining of lignite and to preserve the Hambach Forest.
Participating in actions is not something you do every day. That's why, together with Stroomversnellers, we are organising action training  to prepare ourselves for the Ende Gelände action at the end of October.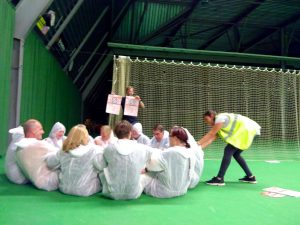 The training sessions  are suitable for all experience levels. People with no or little experience in civil disobedience are strongly encouraged to participate in a training before the action. Participants with more experience are very welcome to share their experiences, make new contacts and refresh their skills. So, if you want to participate, please consider following a training. Not only for yourself, but also for your fellow activists! These trainings are essential because they teach us how to remain safe, and also how to act efficiently and effectively. Also on the program is the safety risks, group forming, how 'affinity groups' work and practicing action tactics.