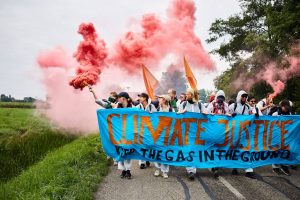 Date: 2nd of February 2019
Time: 10.00-18.00
Location: Het Hof van Cartesius, Vlampijpstraat 94, 3534 AR Utrecht
While CO2 levels and global temperatures are rising faster than ever in human history, Code Rood is inviting you to a national gathering on the 2nd of February to discuss what should be the next steps for mass civil disobedient action for climate justice and against the fossil fuel industry in the Netherlands. In this meeting we will bring together and discuss the viewpoints collected during the decentralised meet-ups that were organised in December (Amsterdam – Rotterdam – Utrecht – Leiden – Nijmegen).
This will be a moment to reflect on the politics and strategy of Code Rood and its position within the climate movement at large, and to find common ground and clarity on where and how to most effectively invest our energies in the next year. The meeting will be a platform for collective analysis and discussion, providing crucial input for the action conference that will be organised in March, where decisions will be made regarding the plans for Code Rood in 2019.
Did you participate in one of the local meet-ups and want to get more involved? Are you interested in better understanding Code Rood's working structures? Did you take part in climate action before, and want to contribute to stepping up the fight against the fossil fuel industry? Then please come through!
Because we know that 'ordinary people' like us have to continue building this movement. After all, politicians and multinational polluters will not protect the climate for us, regardless of their greenwash propaganda. In the face of climate chaos, our hope is on grassroots organisation!