Getting to the camp
The camp location is Dieftilweg 4, 9912 TA Leermens, The Netherlands.

Walking/cycling
From the closest train station,
Loppersum
, it is a 4 kilometre walk/cycle to our camp location. From the trainstation, cross the train tracks and go on the
Bosweg
in the direction of
Eenum
(right hand – north-east direction). Stay on the
Bosweg
till this road makes a turn to the right, directly after this turn take the first road on your left,
Pastorieweg
. Cross the village of
Eenum
completely (Turn right to the
Kerkpad
, follow this road to the left,
Poortweg
.) Cross the bridge at the end of the village. Pass by the houses on the
Schansweg
, keep on following this road till you reach a junction when you're next to a stream and turn right till you see the camp (
Dieftilweg, Leermens
). See map for the route. 
Public transport
On monday till friday there is a bus (public transport) departing from Loppersum trainstation which stops at a 2 min distance from our camp location. Take bus 561 (perron D) in the direction of Appingedam (departure times: 07:44, 09:44, 15:44 and 16:44). After approx. 10 minutes, get off at stop:
Wierdeweg 3, Leermens.
From the busstop walk out of the village in the south-direction, cross a bridge and keep going straight till you see the camp
(Dieftilweg, Leermens)/
Shuttle-transportation
For those who are not able to arrive at the action camp themselves there is shuttle-transportation arranged between trainstation Loppersum and the camp. Call or text your time of arrival and the number of people to [number will follow 22/8]. We aim to pick you up within one hour after arrival!
By car
Cars can take the same route as walkers/cyclers. Information about parking spaces will be provided at the camp. Make sure to not block any roads.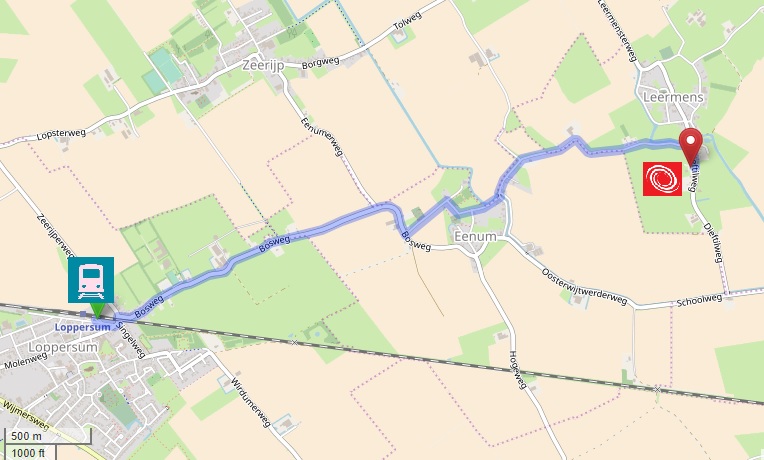 Transport
National
Bus from Amsterdam to the camp
Travel dates:

Departure Amsterdam Sloterdijk, 11.30 am, Saturday, 25th of August

Return 31st of August

Costs: 10€ Return ticket

Registration here
Bus from Utrecht to the camp
Travel dates:

Departure from Utrecht 5pm, 24th of August
Return also to Utrecht 31st of August
(cancelled: original starting point at the Hague)

Costs:

Single ticket (in or outbound): 5€
Return ticket: 10€

Registration here
Cycle from Utrecht on the 22nd of August:
Join the UK August cycle ride to Code Red actioncamp

Costs: 15€

Registration here
Cycle ride from Nijmegen
Cycle from Nijmegen to Code Rood

Cost: 15€

Sign-up via email

International
Germany
Bus Cologne
Departure: Saturday 25th of August
Return: Thursday, 30th of August
Prices: 35€ – 45€
To book a ticket and for more information email:  busauskoeln@riseup.net
Cycle Oldenburg via Leer to Code Rood camp
Departure: Friday, 24th of August, 9.30 Oldenburg train station, sleep one night in Leer on a campsite

people can also join on Saturday, 25th at 8.30 at Leer train station

 To register email: klimakollektivol@posteo.de
UK
UK coach to Code Rood action +camp:   hurray, FULL! (sorry)
UK August cycle ride to Code Red camp + action
Belgium
Sweden
Denmark
France
National & International
Besides organised transport you can also indicate on our car pooling website whether you are offering or looking for a transport option via car or train! Check https://mehr.aktionsboerse.org/ and post whatever you are looking for!