Dit evenement is voorbij.

Dit evenement is voorbij.
At the second action conference we discussed five ideas for the target of Code Rood in 2018. After a talking about strategy, mobilization-potential, feasibility, message and various other criteria,  but we did not finalise the choice between two remaining proposals.  These will be worked out in more detail, and on the evening of December 12th, we will find a consensus for 2018!  Join us there to contribute your views and ideas.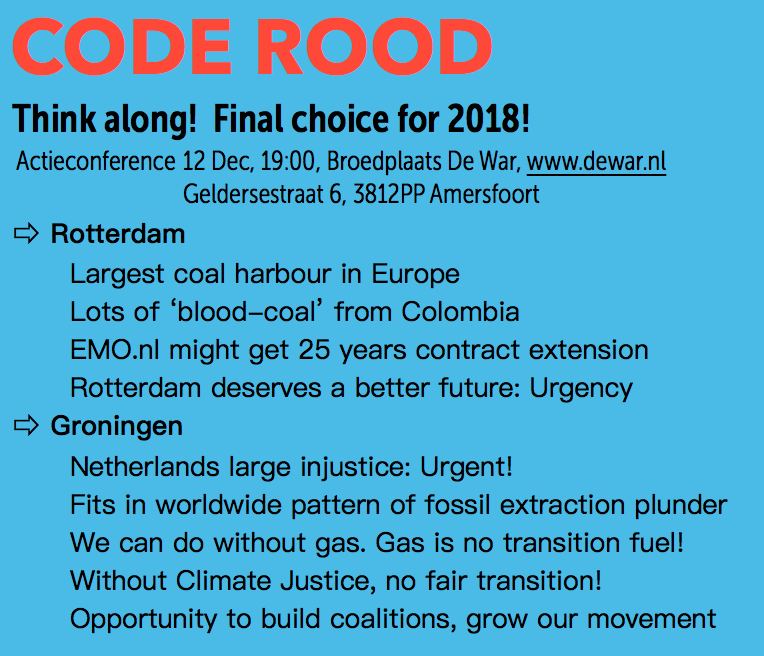 Location: Broedplaats De War / Het Spullenlab in Amersfoort, Geldersestraat 6 2812PP Amersfoort (15 minute walk from Amersfoort CS).
The two remaining options in short:
Rotterdam is an urgent target because the Rotterdam municipality will decide in spring on an extended contract to the EMO coal harbour in Rotterdam. That would be a great mistake at this point in time, and it must be stopped.  In addition, Rotterdam, and its large harbour at the Maasvlakte, are have a large and filthy fossil fuel industry.
Groningen has been struggling against gas production for years, as it now results in earthquakes that are dangerous and destroy houses of people living there. It is the clear example of climate INjustice in our own country: The fossil fuel industry plunders the land and endangers the local population. They take a large profit, give government a tip, and leave inhabitants with the consequences.   It is argued that gas production is essential for state income, for our heating, and it is a 'transition fuel'. None of these is true.  We contacted groups in Groningen and they seem enthusiastic to take their resistance to a next level with us.
There is much to say for both targets. We can have a strong impact with either of them, but we cannot do both.  Both proposals are being explored further by two groups so that we can find a well informed consensus for 2018.
Help decide and join us on December 12!
[ninja_form id=15]