Dit evenement is voorbij.

Dit evenement is voorbij.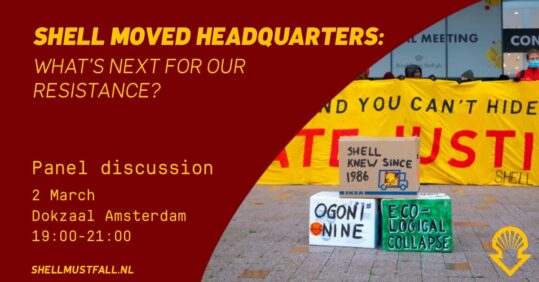 Shell's headquarter is leaving the Netherlands, at a time when its social license to operate is being questioned and eroded by a large number of people through a variety of different campaigns. It is leaving behind a rich history of more than 40 years of resistance against the company as well as a series of legal proceedings in different Dutch courts, from Groningen to The Hague.
What is the legacy that Shell is trying to leave behind in The Netherlands? Adequate compensations not given in Groningen, still pending civil actions in Dutch Court by affected communities around the world, a successful climate litigation against the company, which Shell has appealed, a pending corruption investigation on the Nigerian OPL 245 case and lack of transparency about taxes paid around the world.
Communities, NGOs and citizens still want to hold Shell to account.
All our struggles need to connect and work together to overcome legal and political barriers.
How do we continue to fight the oil giant when it has moved its headquarters more out of reach? Will our movement change? How can we best continue to stand in solidarity with Groningers? What will happen to the ongoing climate cases against Shell in The Netherlands? How can we pass on our knowledge, keep our own momentum and continue resisting this neo-colonial climate criminal?
This panel will be an opportunity to exchange views on what our collective strategy against Shell should look like now that the company is leaving The Netherlands. How will we deal with Shell's toxic legacy and their continued presence here? What will a transformative transition look like, without the elephant in the room?