Dit evenement is voorbij.

Dit evenement is voorbij.
Fossielvrij NU! (Fossil free NOW!) is organizing a demonstration to show us support, love and solidarity. If you do not want to, or can not, participate in the action but like what we do then you can come to this legal demonstration.
This demonstration will start at 14:00 at metro station Isolatorweg.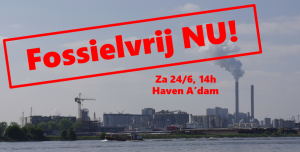 Also see and share this Facebookevent.