Curaçao is a Caribbean island located about 65 km north of the Venezuelan coast in South America, and a former colony of the Kingdom of the Netherlands, which only became independent (within the Kingdom) in 2010. In the early 20th century, oil was discovered off the coast of Venezuela. Curaçao was the perfect location for Royal Dutch Shell to capitalize on the "new black gold". In 1915, Shell established the "Isla" refinery, which it operated until 1985 and which has been described as an "ecological nightmare". Shell also profited from a racist colonial hierarchy and the exploitation of Curaçao's majority black population at the hands of a white managerial class hailing from the Netherlands.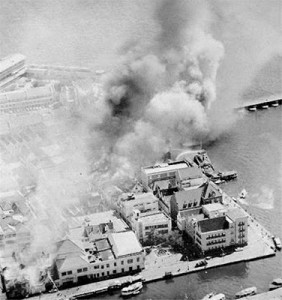 In 1969, Shell employees and other contractors' employees working for Shell went on strike in solidarity with striking Werkspoor employees (Werkspoor being a subcontractor of Shell). On May 29, thirty to forty workers marched to Fort Amsterdam, the Antillean government's seat, contending that the government itself was contributing to wages being kept low. The strike was successful: Union leaders announced a deal under which Shell workers would receive equal wages whether they were employed by contractors or not and independently of their national origin. Yet the workers' demands went beyond equal pay: Inspired by the recent Cuban revolution and the emerging Black Power movement, the movement started calling for decolonization of the island and an end to racial discrimination. Despite all attempts at appeasing the workers, the strike gave rise to a major anti-colonial uprising, which put an end to white dominance in politics and administration in Curaçao, and led to the ascendance of a new black political elite. Nearly all of the governors, prime ministers, and ministers in the Netherlands Antilles and Curaçao since 1969 have been black.
Today, Shell's toxic legacy remains: Not only is the aging Isla refinery known for its high levels of pollution; it has also made Curaçao one of the places in the world with the highest per-capita carbon emissions. Shell transferred the ownership of the Isla refinery back to the government of Curaçao in 1985; and has since denied any responsibility for its legacy. On the ground, groups like Amigu di Tera are continuing to fight for justice.
Dismantling Shell means to hold it accountable for its racist and colonial history and for the environmental crimes it has committed around the world! #ShellMustFall