On May 18, 2021, the day of Shell's annual shareholders' meeting, supporters of Shell Must Fall took action against the fossil multinational in countries including the Netherlands, Nigeria, Ghana, Germany, Sweden and Belgium:
'In the midst of a climate crisis, the last thing we need is shareholders of an oil giant getting together to discuss how to maximize their profits. The idea that Shell will one day become an honest ecological company is a fantasy, wishful thinking.'
CEO Ben van Beurden himself admitted this at the shareholders meeting: "At this point in time, if we had to indeed shrink the footprint of the company, the only sensible way you can do this fast is to just retreat from the business. "
The Shell Must Fall coalition therefore says: dismantle the wells and pipelines, split off the company's renewable energy units and place them under democratic control; repair the damage done to communities and ecosystems and provide green jobs for workers.'
No money for fossil fuels!
Throughout the Netherlands, people called on the Netherlands' largest pension fund (ABP) to stop fossil investments.
In Amsterdam, Greenpeace NL, Queers 4 Climate, Extinction Rebellion NL and Fossielvrij NL organized an action at the ABP office in Amsterdam Zuid. The activists demanded that the pension fund finally stops investing millions in climate destroyer Shell. Also in Heerlen people took action against the fossil investments of ABP. Climate coalition Parkstad, a collaboration of Amnesty International, International Socialists, FNV, Black Lives Matter Parkstad, Extinction Rebellion, Grandparents for the Climate, Heerlen Mondiaal, Parkstad in Transitie and IVN Heerlen, protested at the headquarters of ABP in Heerlen:
"ABP invests 17.4 billion euros in the fossil industry, which is 64% of their total energy portfolio. These investments include some 300 coal, oil and gas companies including Shell, BP, ExxonMobil and Total. ABP is thus actively contributing to the preservation of the current energy supply system. In this system, 93% of all the energy we consume comes from fossil fuels."
In Utrecht, Fossil Free Utrecht and XR Utrecht organized an action on the Stadhuisplein. They handed over a letter to alderman Linda Voortman, calling on the Municipality of Utrecht to put pressure on ABP to stop investing in the fossil industry. In Roermond, the young activists of Fridays For Future had the same demand.
Extinction Rebellion Rotterdam organized a symbolic action at a gas station in The Hague to call on Robeco to stop investing in Shell. In Sweden, activists doused themselves with an oil-like substance to make visible that Shell has no intention of keeping oil in the ground.
Actions also took place at Shell offices and infrastructure.
Fridays for Future Amsterdam organized a Shell Must Fall banner drop at the Shell technology center in Amsterdam North, and on the ferry across 't IJ on the way to Shell. "Instead of looking for fake solutions, Shell should just stop destroying the earth!"
Campaigners from Code Rood, dressed as construction workers, were ready with a crane and a wrecking ball to demolish the Shell headquarters in The Hague and replace it with an International Tribunal for Climate Justice. ASEED and Your Mother began planting greenery near the new Tribunal to be built during the action. 'Resistance is fertile.'
Climate Coalition Arnhem met at a Shell oil depot with local groups PINK!, Extinction Rebellion and the SP. Later, the action group left for the Nieuwe Haven to protest the arrival of a Shell oil tanker. For this purpose they brought a striking red sailboat on which ACT NOW was written in large letters.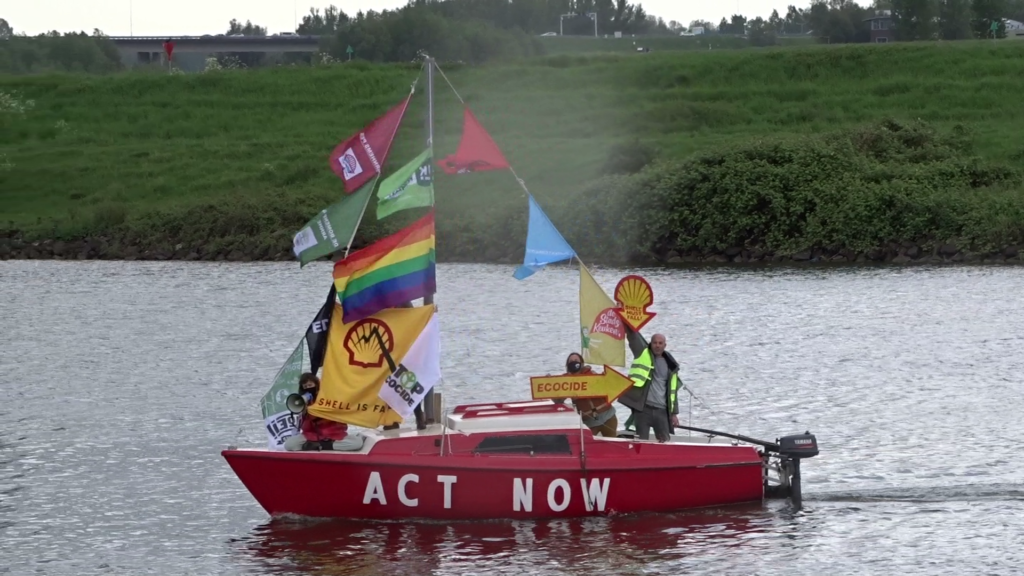 Extinction Rebellion Alkmaar stood with signs and banners at a Shell gas station. Extinction Rebellion Enschede demonstrated at several Shell petrol stations in Hengelo. They engaged in a conversation with interested people and refueling motorists to draw attention to Shell's criminal practices.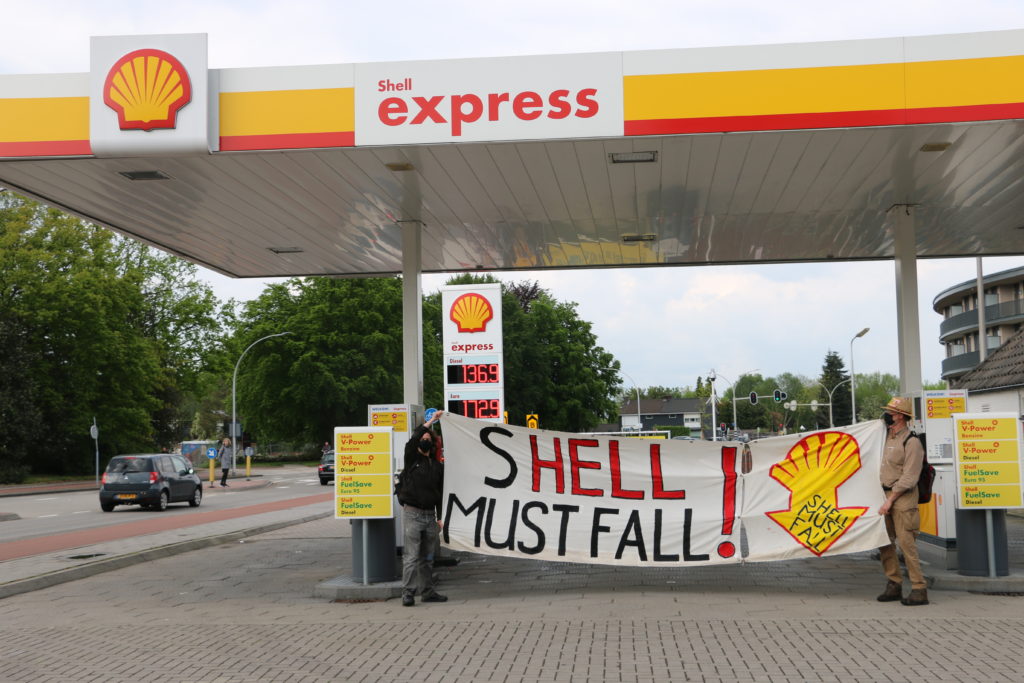 In Dresden, Germany, a speech was held at a gas station. Nine empty chairs represented the Ogoni 9, who were hanged 25 years ago for their opposition to oil extraction in Ogoniland. Also in Aachen, Germany, activists from Ende Gelände Aachen stood with Shell Must Fall banners at a Shell gas station.
In another place in Europe, activists sprayed glue into the ATMs of an unmanned gas station, causing the gas station to go out of business.
Polluters pay!
In Cologne, a vigil was organized by ausgeCO2hlt and Payday Africa International. They called attention to the decommissioning of Shell and reparations to affected communities. "We will be back, because Shell Must Fall!"
In Ghana, activists demanded that big polluters like Shell pay for the damage they have caused over the years. They also criticized Shell's plan to emit net zero CO2 (net zero) by 2050. This plan is misleading and inadequate to meet the climate goals that are needed.
Environmental activists from Corporate Accountability and Public Participation Africa (CAPPA), also took action against Shell's net zero plan at Shell's headquarters in Lagos, Nigeria. Demonstrators carried several banners saying that Shell's Net Zero plan is a scam, and stressed that the oil giant is trying to distract the rest of the world from the real solution, which is to stop emitting greenhouse gases completely.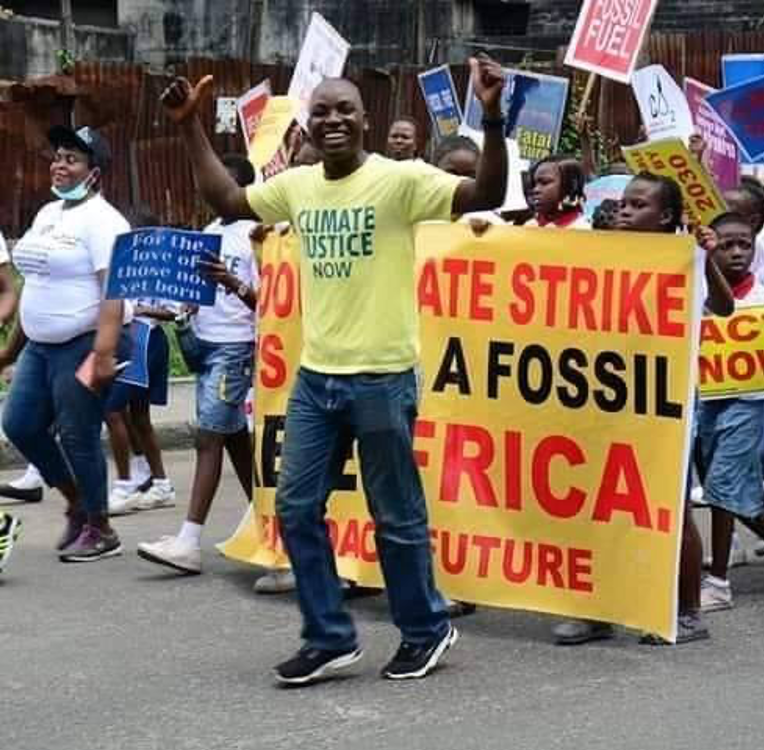 Akinbode Oluwafemi, director of CAPPA, described the Shell Net Zero plan as "climate deception" during the protest. Oluwafemi: "As Shell continues to peddle its Net Zero promise, communities across the African continent, on the front lines of the climate crisis, have had enough of Shell's false solutions to climate change, and are demanding real action."
Public institutions should cut their ties with Shell!
In Groningen, a Shell Must Fall banner was hung on the route to the University of Groningen. The University of Groningen collaborates with the NAM (which Shell owns half of) for example in the Energy Academy, a "top institute where energy education, research and innovation come together." Thus, Shell has an unacceptable influence on our education.
In Leiden, during the night of Tuesday to Wednesday, people sprayed slogans and left bloody handprints at two public institutions that cooperate with Shell: Museum Boerhaave and Leiden University.
From the statement of the activists:
"Exactly one year ago, Extinction Rebellion Leiden and Code Rood joined the fight to end the collaboration between Shell and Rijksmuseum Boerhaave. Shell gives the museum a meager sponsorship to organize an annual science fair for children. In return, the museum dedicates a significant portion of its exhibition to a polished version of Shell's history,…., making the museum the fertile ground for Shell to recruit talent and promote its image as a socially responsible company."
"Leiden University is no better, for it too is complicit in the privatization of knowledge and its use against humanity and nature. … Although private capital is known to contribute little to innovation, corporations have become an important controller of the university's research goals and programs, particularly in the Faculty of Science. Just last year, Shell entered into a five-year collaboration with Leiden University and VU Amsterdam to study quantum computing. The results of the research, Shell's Chief Scientist Detlef Hohl explained, represent a business opportunity for Shell. So while public money is invested in training our researchers, their talent and efforts are wasted and exploited for private interests."
"We demand that Leiden University and Rijksmuseum Boerhaave immediately sever any relationship with Shell. Until then, expect resistance."
On May 19, Scientists For XR took action at the opening of a climate exhibition "Our Future Planet" at the Science Museum in London, which is sponsored by Shell. The group chained themselves to a mechanic tree in the museum, disrupting the opening: This sponsorship is smoke and mirrors to allow them to carry on exploring for oil and gas. Shell is using the Science Museum to legitimise their crime. If the scientists and the public can see that, why can't the management of the museum? About as unethical as a cigarette manufacturer sponsoring clinical trials for lung cancer drugs."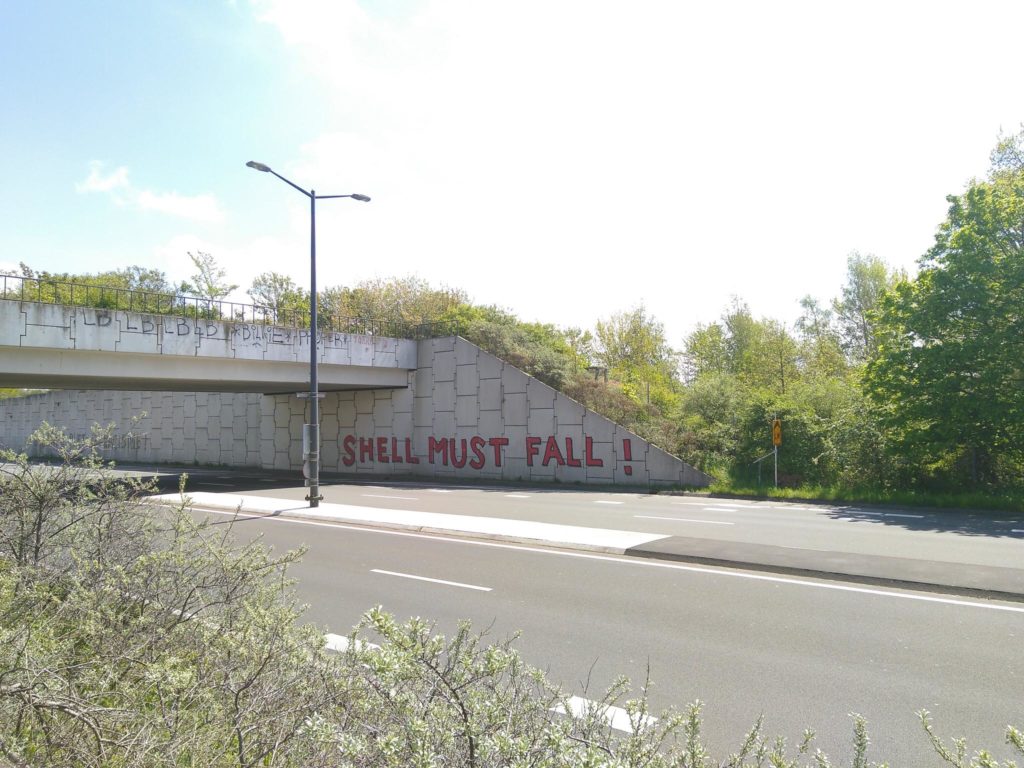 More pictures of the action at Shell HQ.
More pictures of other actions.