Evaluatieconferentie: beweging versterken & succes vieren!
29 September, 2018 @ 15:00

-

20:00

29 September, 2018 @ 15:00

-

20:00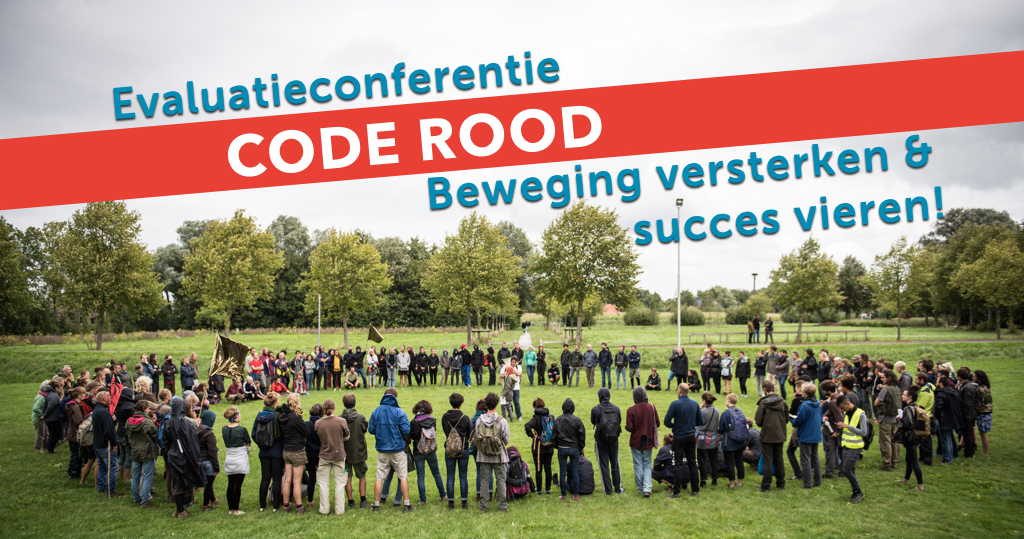 Eind augustus hebben we met honderden mensen geschiedenis geschreven. Samen hebben we 50 uur het NAM takenpark in Delfzijl geblokkeerd. Want de overheid laat het gebeuren dat de NAM, Shell en Exxon wegkomen met miljarden winst, zonder op te draaien voor alle schade die ze aanrichten. Daarom hebben wij een duidelijke grens getrokken en het tankerpark  geblokkeerd. Voor de toekomst van Groningen en het klimaat!
Een maand later komen we weer bij elkaar. Op zaterdag 29 september zullen we in Groningen terugblikken en vooruitkijken. Waar zijn we tevreden over? En wat zouden we de volgende keer beter kunnen doen?
Wat:          Evaluatieconferentie Code Rood actie Groningen 2018
Waneer:  29 September 2018,  13:00 – 18:00
Als je opgeeft dat je graag een fiets wil gebruiken zal er op station Loppersum  een actiefiets voor je klaar staan. Neem dan de trein uit Groningen van 12:18 of die uit Delfzijl van 12:30 (aankomst in Loppersum om 12.42 uur) dan kom  je per fiets nog op tijd aan.
Voorlopig  programma:
1) Evaluatie voorbereiding CR actie
2) Evaluatie kamp & actie
3) Next steps
Iedereen is welkom!  Ook als je niet bij het kamp en actie betrokken was, ben je welkom  om de sfeer proeven, en te zien of actiever meedoen iets voor jou is. Maar de 29ste zal vooral ook een dag zijn waar we elkaar weer zien, en samen ons succes kunnen vieren!
Meld je aub aan via onderstaand formulier zodat we weten hoeveel eten er nodig is en hoeveel fietsen er nodig zijn.
[ninja_form id=8]