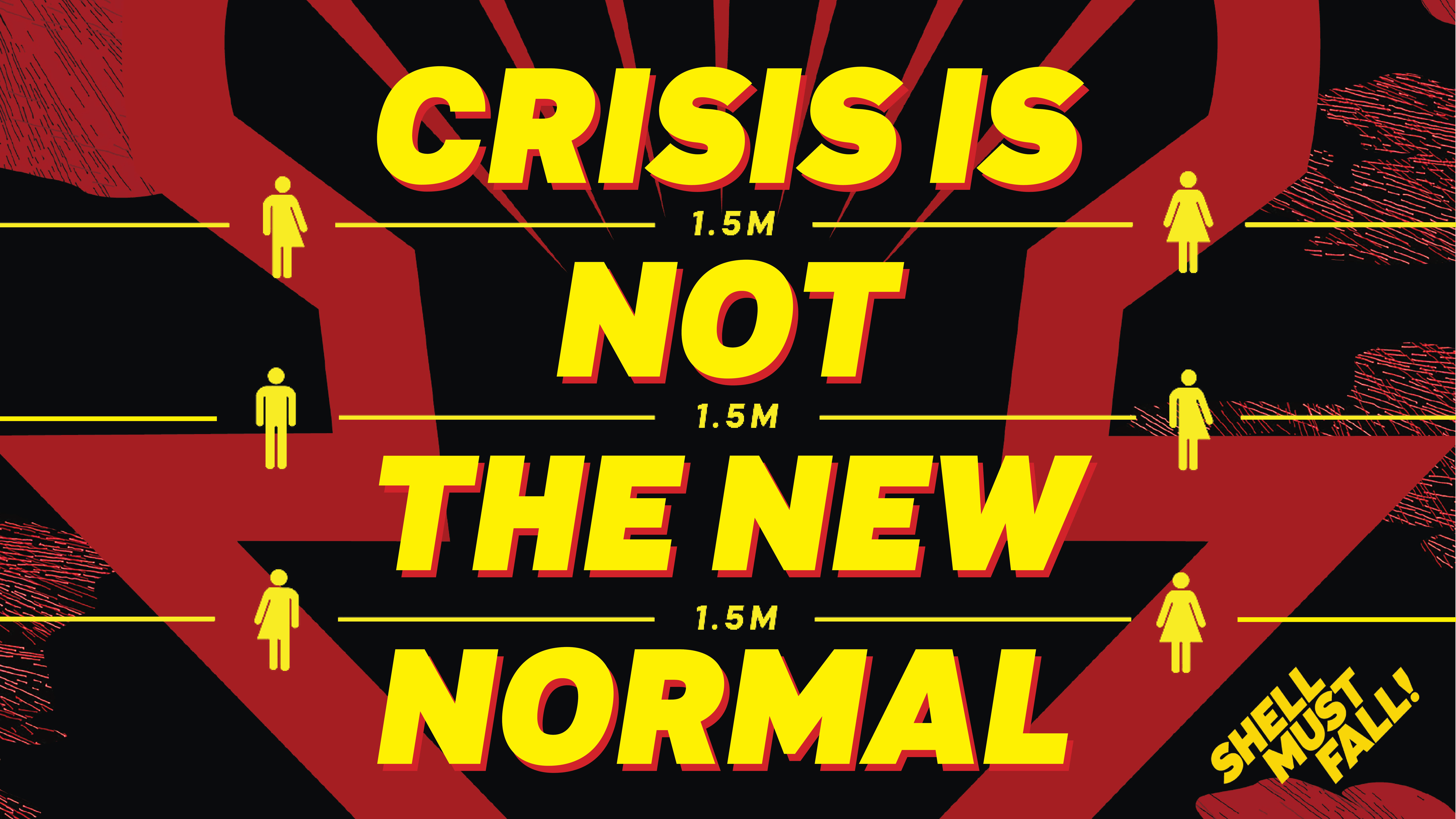 Shell will hold its annual shareholders' meeting (AGM) on May 19, 2020. Due to the corona crisis, it will not take place in the Circus Theater this time, but at Shell headquarters in The Hague, with only two shareholders present: https://www.shell.com/investors/retail-shareholder-information/annual-general-meeting.html. Our prophecy at the 2019 shareholders' meeting that it would be the last Shell AGM has almost come true! And Shell is actually falling…..
Due to the measures currently in place to curb the Covid-19 pandemic, the mass action that we had planned on May 19 cannot take place. But Shell won't stop unless we stop them. We will therefore not let the shareholders' meeting go by unnoticed. And everybody who feels committed to the fall of Shell can join us! Here's how:
1,5 meter protest in The Hague
We will be visible and audible in The Hague when the Shell AGM is taking place. We will create a platform for our story: Shell is a criminal company that should be dismantled. This is the only way to ensure infrastructure is broken down, oil wells are closed, communities are compensated, ecosystems repaired,and workers can transition to greener jobs. The best time to start a future beyond Shell is right now.
We want to make sure that everybody participating in this protest is safe. Therefore we call on people who are able/willing to be present in The Hague to let us know your intent to join this action. That way we can ensure that it does not get too crowded and we can inform you of any precautions that we are taking. Please take a moment to fill out this short and secure form if you are interested in joining us.
We encourage people who live far from The Hague to consider planning their own action closer to home.
Plan your own action!
On May 19th we call on all allies to plan their own Shell Must Fall action close to home! An action can be something simple or it can be something more disruptive. No matter your experience or ability, there are options that can work for anybody. We just ask people to check and respect our action agreement. 
Action ideas:
chalking protest
banner drop
small/bigger 1,5 meter protest at Shell gasstation or other infrastructure
brandalism
direct action
Here you can read more about planning your own action and the support we can offer.
—————————————————————————————–
We are a large movement committed to dismantling Shell with all the political, legal and economic resources required. Stop Shell for climate justice!
We want a fair transition for the employees; reparations to affected communities and decentralized and social energy democracy for all.
It's time to make Shell history.
Let's go.
*This action is supported by Het Actiefonds*