Shell pride themselves in being one of the world's largest suppliers of fossil gas. As demands for clean energy have become louder over the past years, gas has increasingly been presented as a "clean fossil fuel" and as the key to a green energy transition.
Claims that gas should be considered a green energy source are usually based on the fact that when burned it emits less carbon dioxide than other fossil fuels.
However, this argument ignores the much higher Global Warming Potential of methane, one of the major components of fossil gas, which can be released into the atmosphere through leakages along the supply chain and fails to account for the local impacts of gas extraction on the ground.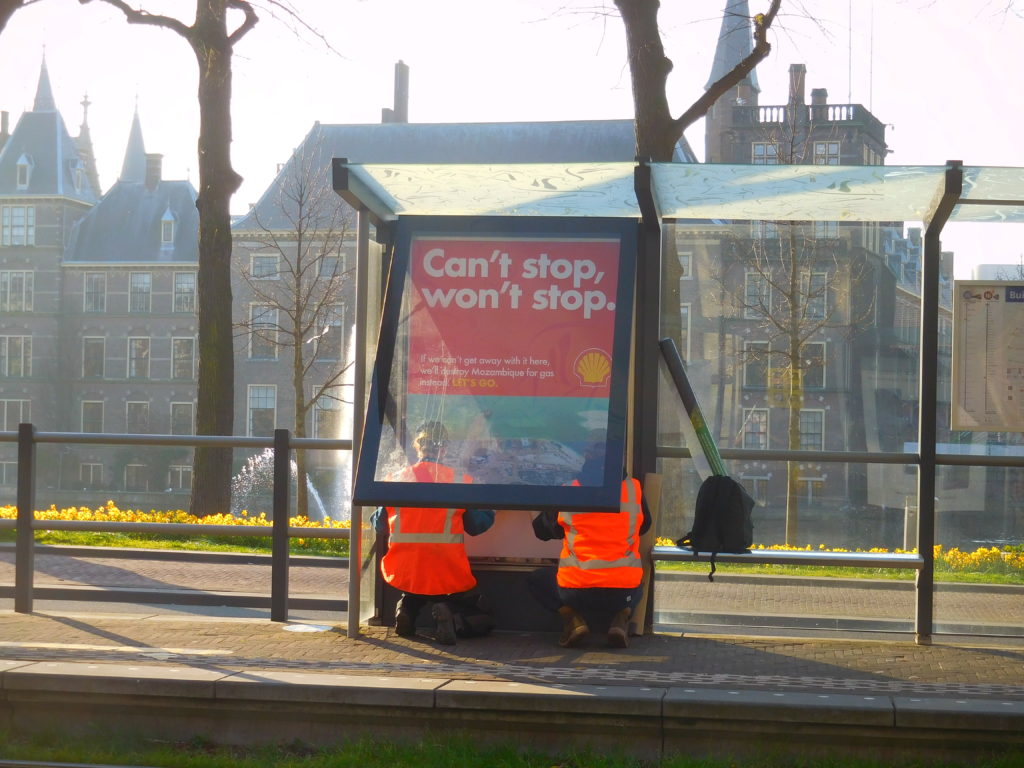 This April fool's day activists from all over Europe teamed up to expose the dirty lie behind clean gas that fossil fuel companies have been trying to sell us for too long. In the Netherlands, in Amsterdam, the Hague and Wageningen, posters appeared that shed light on how Royal Dutch Shell specifically has been destroying livelihoods, ecosystems and the climate in the name of a false energy transition. This sends a clear message: the fight against gas and the fight against Shell must be a global one. We won't let them drill for gas, not here in Groningen and not anywhere else!

The poster campaign shows the consequences of Shell's investment in supposedly clean gas in Cabo Delgado in Mozambique where gas giants and insurgent groups have displaced thousands of people and in Vaca Muerta, Argentina, where the use of hydraulic fracturing is contaminating water, air and land and is violating indigenous rights.
Cabo Delgado, Mozambique
The small village of Milamba on the coast of Cabo Delgado in Northern Mozambique used to be a quiet fishing village. But when reserves of liquid natural gas were discovered there, companies from all over the world were quick to start drilling and turn the small village into an airport for their operations, displacing and exploiting the local population.
In 2019 Mozambique was hit by two cyclones within five weeks, one of them being among the strongest cyclones ever recorded on the African continent. With rising temperatures and sea levels the frequency and intensity of such extreme weather events is expected to rise even further.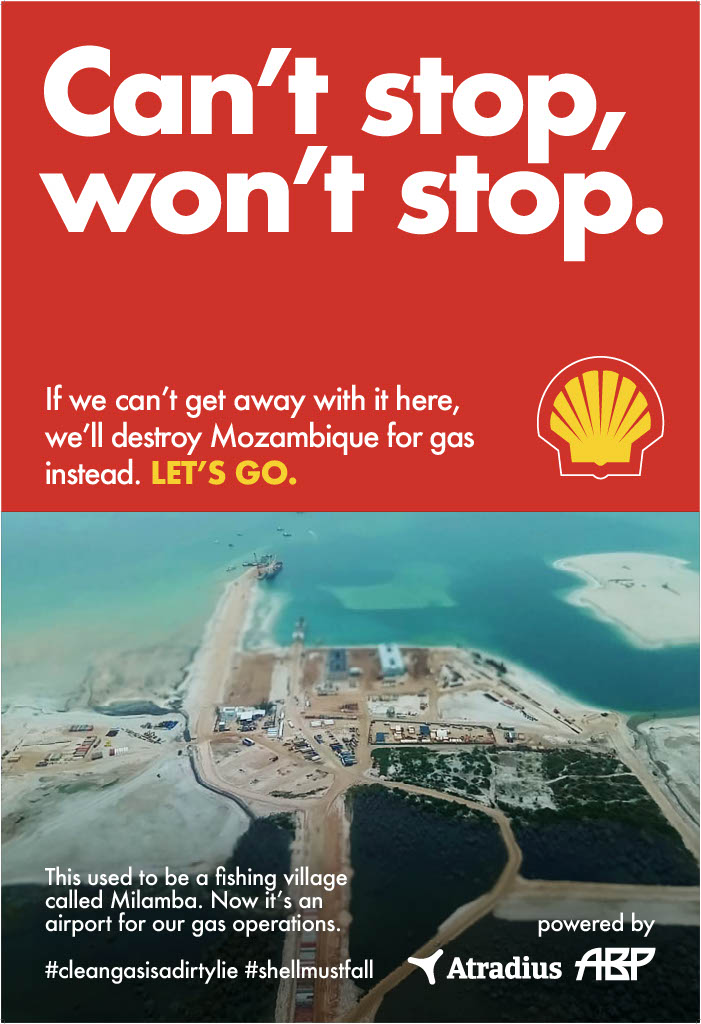 While European fossil fuel giants were busy destroying the local environment and the livelihoods of villagers, insurgent groups have started to terrorize Cabo Delgado, forcing about 700,000 people to flee the area as domestic refugees and killing several thousands. Only last week attacks escalated again and are still ongoing with dozens of people having been killed.
Shell has been fueling the disastrous development of liquid natural gas in Cabo Delgado for over a decade. Atradius Dutch State Business and the Dutch Pension fund ABP have both reportedly been using Dutch public money to support the gas development in Mozambique, with ABP also funding French oil giant Total, one of the main drivers behind the extraction of liquid natural gas in Mozambique.
Last year Shell announced that they will cancel their plans for a Gas-to-liquid plant in Cabo Delgado, but are yet to confirm whether they have also cancelled their purchase contracts.
As long as Shell avoid answering this question they cannot rid themselves of the responsibility for ruining the livelihoods of the displaced fisherfolk who have lost their homes and income for the extraction of dirty gas.
"Shell thinks that if they exploit countries out of sight, no one will notice. Communities and land in Mozambique have been violently and irreversibly devastated by the gas industry, for European companies and countries to buy cheap gas, continuing their extractivist practices to maintain economic power over the global South. Countries like Mozambique bear the hardest brunt of fossil fuel extraction by northern countries -facing 2 deadly cyclones in 2019 merely months apart. Shell cannot hide, they can no longer benefit Europe at the expense of the poor and marginalised people of Mozambique." – Anabela Lemos, director of Justiça Ambiental/ Friends of the Earth Mozambique
To find out more about the situation in Mozambique and support the activists on the ground, visit JA! Justice Ambiental and Friends of the Earth International.
Vaca Muerta, Argentina

Hydraulic fracturing, or fracking for short, is a technique that breaks open deep-rock formations to extract shale oil and gas. Fracking has been associated with various forms of environmental damage, ranging from water pollution and the creation of earthquakes to the leakage of the highly potent greenhouse gas methane into the air. In the United States fracking has been used for years and has led to numerous disastrous accidents. Nevertheless, fossil giants are planning to continue fracking and to take it to South America.
Vaca Muerta (English: "Dead Cow") is the second biggest reserve of shale gas in the world, located in Western Argentina. It is estimated to hold about 50 billion tons of CO2. Currently the gas field in Vaca Muerta is still in the early stages of development, but has already had devastating consequences for the local communities and environment.

Communities in the states of Neuquén, Río Negro, La Pampa and Mendozaand have been faced with waste dumping, water and air pollution and violations of indigenous rights. The Mapuche, an indigenous group that has lived off the land in Western Argentina for centuries, have now sued the multinational corporations involved in contaminating their water and ancestral lands.
Meanwhile, the construction of the gas fields has brought about many other social concerns, such as precarious working conditions for gas and construction workers as well as reports of increasing numbers of human trafficking in the region.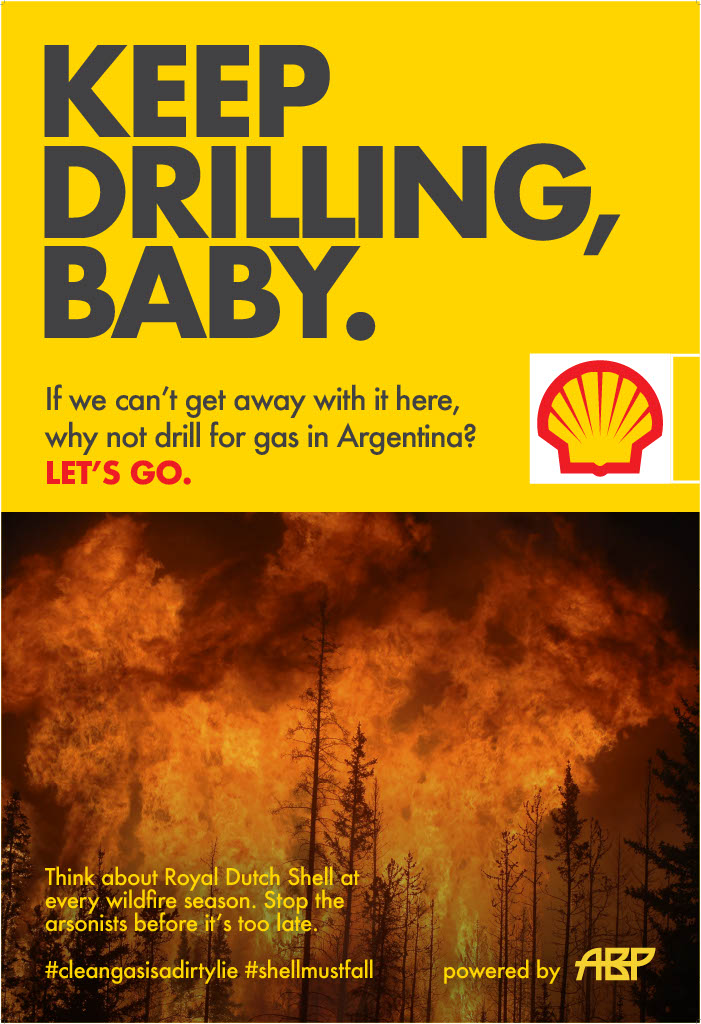 Shell is one of the companies owning the project in Vaca Muerta and is therefore directly responsible for the environmental destruction and human rights violations it is causing. It is clear that a green energy transition cannot be built on such unethical and unsustainable practices which is exactly why we need to break Shell's narrative of clean gas!
Click here for additional information on the situation in Mozambique and Argentina.
The time has come to hold companies accountable for the destruction their "clean" gas is causing all over the world. We must send a clear message that we will not let Shell and other fossil fuel giants continue their greenwashing of fossil gas at the expense of thousands of lives and livelihoods and irreparable damage done to precious ecosystems. At the same time we demand answers about the use of Dutch public money in funding liquid natural gas abroad and Shell's involvement in gas extraction in Cabo Delgado.

Help us show that #CleanGasIsADirtyLie by spreading the word and showing support over on our social media channels on Facebook, Instagram and Twitter where we will also regularly post impressions from this and other actions.

If you are appalled by Shell's involvement in these disastrous climate wrecking projects, stay updated on our international decentralized action week around the Shell annual shareholders meeting this March. In the midst of a climate emergency, the last thing we need is shareholders of an oil giant meeting to discuss how they are going to maximise their profits.