30 May, 2019 @ 19:00

-

20:00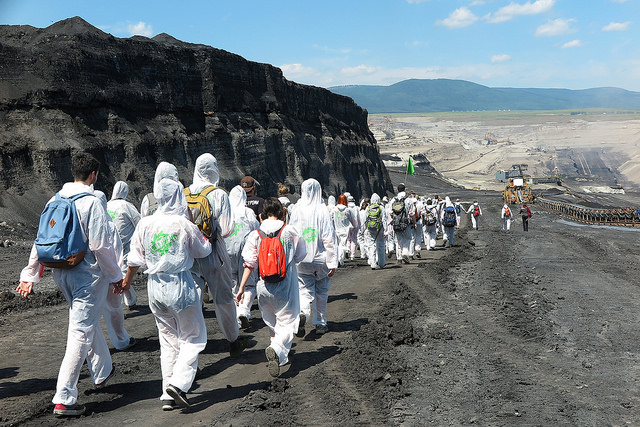 To register for buses from the Netherlands to the Ende Gelände campsite see: https://www.facebook.com/events/415431772360862/ and https://wijgaannaareg.nl/and https://wijgaannaareg.nl/
As extreme weather is visibly increasing, bringing suffering to millions of people around the globe, it is clear to all that coal mining should come to a an urgent end in order to prevent further climate breakdown! Nevertheless, the German government supports coal power stations and continues the expansion of the biggest lignite coal mines of Europe; the Garzweiler and Hambach mines in the Rhineland near Cologne, just 30km over the border with the Netherlands.
To expand these coal mines, fertile agricultural land and centuries old villages such as Manheim, Keyenberg, Borschemich, Immerath and Morschenich are continuously being evicted and destroyed. The last remaining part of the unique 12.000 year old Hambacher Forst is also in danger of being cut down. The people who have been occupying the forest to protect it are being violently harrassed by the police. This needs to stop!
So what can you do? This evening we will inform you about the possibilities for you to join the Ende Gelände mass civil disobedience actions against coal infrastructure that will take place between 19 and 24th of June this year. Together we can make a difference! We will explain practicalities about the action plans and we will share experiences of Ende Gelände last years.
Before the session, we will enjoy a bowl of soup together (donation based).
Ende Gelände June 19th – 24th 2019
To protect the villages, the Hambach forest and our global climate there will be five days of civil disobedience to put an end to coal mining. By disrupting the operations of the Rhineland coal mining areas, we show our concerns about the extraction and combustions of coal. The urgency of climate change asks for immediate transitions, coal mining needs to stop now! For more information: https://www.ende-gelaende.org/en/action/
Program:
19:00-19:15 Doors Open
19:15-20:00 Soup!
20:00-20:30 Presentation from Ende Gelände NL + sharing experiences
20:30-21:00 Q&A with EG activists
Spoken Language: English
Whisper translation to Dutch can be provided