June 13 2018 we will organise an info talk at Mandril in Maastricht about the coming civil disobedience action in the north of Groningen. Information about Code Rood, the action, the climate camp, the problems in Groningen en civil disobedience training will be provided. After the presentation (in english) we will screen the documatary "Disobedience" an inspiring documentary that nicely shows the growth of the climate movement.
Programma:
Datum: 13 Juni 2018
Programma

20:00 presentation Code Rood + Q&A
20:40  Info Actietrainingen & opgave
21:00 Documantary: Disobedience
About Mandril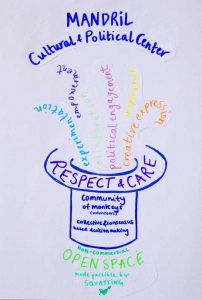 The Mandril Cultural and Political Centre (MCPC) is a volunteer-run, community-based space for creative expression, collaboration, and political discussion in Maastricht. We are a collective of dreamers,
doers, and thinkers that is built on values of inclusion, diversity, sharing, and mutual support. We aim to promote alternative approaches to art and politics. We connect people and initiatives from different
backgrounds and facilitate an exchange of skills and ideas and reach out to a variety of groups to encourage collaboration and promote awareness for crucial political issues. Additionally to fostering social sustainability we aim to inspire a culture of environmental awareness. The physical space is largely built through reusing, recycling and upcycling existing materials. Similarly, we continually work on keeping the day-to-day running of the place environmentally sustainable by repairing rather than replacing and making use of products considered as "waste".